At H&M fashion is in focus, even during Christmas, and the H&M stores are now full of clothes for all the upcoming parties. Christmas at H&M is like one big party for the whole family, where everyone can find a fashion gift both for themselves and for their nearest and dearest.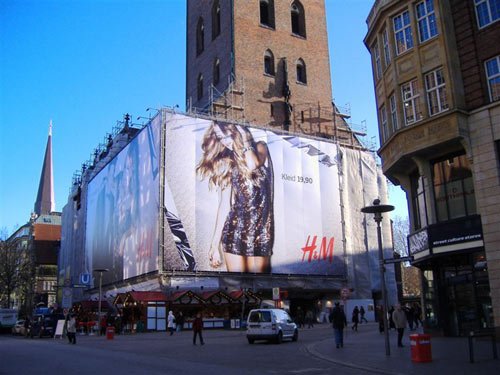 Christmas fashion at H&M – Hamburg – Foto: E. Siefken
Over a period of six weeks H&M is offering specially selected garments that are on sale at a really low price and every Thursday new items are launched from the ladies', men's, Divided and children's department.
Party clothes have arrived in the stores and the whole family can find glitzy party clothes at the optimum price. The pieces include a fantastic sequinned dress for only €19.90, a tuxedo for both men and boys for €19.90 and €9.90 respectively and fabulous dresses for €9.90 for little girls.
Feminine is teamed with a modern metallic feel in this year's lingerie collection. Shiny fabric is mixed with lace, satin and velvet, with a sprinkling of jet and velour prints. From November 29 you can find underwear from this year's underwear collection, where H&M's design team has drawn inspiration from the decadent 1920s and combined it with theatre and gala á la Moulin Rouge. The result is lingerie with a luxurious and sensual feel – perfect for wearing under Christmas party frocks.
Knits are one of this winter's biggest trends and during week 50 and 51 you'll find knitted garments for the whole family in the stores. Lovely dresses and long sweaters for ladies, warm sweaters and cardigans for men and sweet dresses and slipovers for the smallest children.